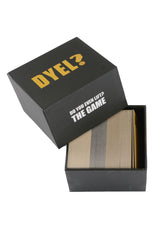 Bro, Do You Even Lift? 
The much awaited game is finally here!
Three decks of cards will decide if you are the biggest beast at acquiring GAINS or if you are living the best LIFE.
But who's got it all? You could duke it out or you could just play and find out?
Box Dimensions: 10.6cm x 10.1cm x 6.7cm
Cards Dimensions: 6.3cm x 8.8cm
Included: 245 Total Cards       
      100 DYEL? Cards
       85 GAINS Cards
       60 LIFE Cards